How did I make those awesome morphs??? You would be surprised. LOL. It's not as hard as you would think. I did have to buy a new program though, when I moved into windows 7, because what I was using had too much trouble. The new program I'm using is called Abrasoft Fantamorph. It's great, you open the program, and add two photos – the start, and the ending. Then you mark points. The more points, the better the morph.
I start with the eyes.  I click in the center of the iris of the left eye on the first picture, and it creates a matching mark on the resulting photo.  You click and drag on the right picture to the center of the left eye that corresponds to the same exact location.  And then I mark the center of the left eye on the wolf.  Then the right eye.  If the photos are clear enough, I'll even go as far as marking all the way around the eyeball, where the white changes to color, or where the lid comes down. 
Why do I start with the eyes?  Because it's what the person watching it will watch the closest.  It sets the "center" of the viewing.  The eyes have to be perfect. 
The nice thing about fantamorph is that it lets you actually view the session at different times of the morph so you can see if there are any errors, so you can play with the dots until everything looks smooth.
Another thing important is to have the program show the first slide and last slide for 7-10 seconds. That's because the human eye is going to truly freak out if all you put is the morph. The first part is like having a slide in your trailer – and you can add text if you like, but stop the text before the morph begins if at all possible. You'll see the example looks like it takes forever to get started, but it's because it will be inserted into the trailer with the music and slides on either side, so it will blend together better.
Here's a draft of my next morph.  It matches the photo you see above, except on the right side where I have since fixed the shoulder so the green merges better.  This is not the entire trailer, I'll be releasing that very soon – but is just the morph of Sean from Blood Moon Betrayed. There's no sound, so you don't get that much of a "sneak peak", but you do get the basics. :)
I'm off to the dentist now. I hope you have enjoyed the last two weeks on "how to make a book trailer.
Marketing your book trailer is next. You laid it out. You picked your music, you adjusted it till you are blue in the face, and at long last you are satisified it will do exactly what you want: Sell your book. Now what do you do?
The first place you want to go is to Youtube to upload your video. Yes, it's easy! I promise. Take a deep breath, create your account and follow their instructions. Make sure you put keywords just as you do for your book any palce you list it.
Go to your Facebook account, and upload your video (they do sometimes allow links from youtube, but mostly you have to upload it to every site on facebook you go to).
Put it on your goodreads account
List it on twitter
Talk about it
Enter it in contests! Anything to get your video "Seen".
Your video cannot market your book if nobody sees it! Talk about video book trailers. share them with others. If you a great trailer – leavea comment, and maybe a link with your own.
Put it on your website, using the youtube "embed" code. Everyone makes it easy for you at this point, but they aren't going to do it for you. So get out there! Remember, if you don't share it, neither will anyone else, because they won't know it is out there.
Does your book trailer sell books? Nobody knows for sure.
So what's left after you market your marketing material? Come back tomorrow to see how I talk about making the morph from man to beast.
In the meantime, tell me where you plan to share YOUR video! And if you have been following along and made your own, give us the link – we wanna see!
We're almost home, folks. You've got the trailer laid out, you've got your text on your slides. Now it's time to work the fine details.
We'll start with making sure your music changes work with your slides. Watch your presentation, turn up the speakers. When the music changes, does a slide change? Does the picture of what you are trying to say match the intensity of what you are listening to? Click and drag a slide longer or shorter to match your music.
Most of the time, when I get bored with a trailer, it's because the music doesn't match the slides. Yes, there's times it won't match perfectly, but remember, your slides need to be shown about 8 seconds. Most music is 2/4, 4/4, etc, and so forth, which means the beat is on the count of 4 or 8 most of the time.So when you are placing your slides where you want them to be, think about that. I'd love to show you the exact video file for the one you're watching below, but I've got a different version of Microsoft Movie Maker now and it won't load that into the main window anymore, so you're stuck with the gunshot for Tigress – it shows how I lined up the slides exactly with the music.
For an example of music working well with the video, here's Dark Succession again. Make it full screen, turn up the volume, and watch the movement of slides and listen to the beat of the music. Listen to the intensity of the music.
Of special note is the section where the slides change rapidly, starting at about 33 seconds. Here you will notice the music changes dramatically, and quickly. So to support that, I show different edgy slides that are taken from the plot of the book. The mirrors, the sharp blade, the book. Each of those are items within the story that build the intensity, and then it moves into the shift, when the next major change occurs (at 43 seconds). Now not every piece of music requires something like that, but you get a very clear picture of what I'm trying to suggest for this.
I hope this helps you understand the importance of music with the slides.
So now that you have your music, you have your pictures, and you've kinda laid them out, how do you get the actual message across to your readers?  Last week, Kris Tualla made a very important comment on one of the lecture posts. 
Specifics.  You have to use specifics
That's what makes a book or movie trailer interesting.  You can't just show a picture of a man and woman and say they have conflict.  You have to either tell or show that conflict.  You can't say "There's danger" and not be specific, unless the imagery is specific.  So now is when you start really working things out.  How many of your pictures say what you want?  If not, do you need to add words?
A decent example (and I'm sure it's not 100% the best), is Tigress by the Tail.
A man with something to prove.  He does have somethng to prove.  He wants to prove to his brothers he's a powerful wizard. I don't go into that detail, but it can be inferred based off the discussion of his talents – the lightning and power.  What else could he have to prove?  It draws our reader/watcher in.
A woman with something to hide.  What is she hiding? In this case, I show the reader – by having the heroine morph into a tigress.
Now if that's not conflict, what else is there?  A couple – one a wizard  – one a were-tigress.  Right away you FEEL the conflict, and the sounds and music shown, also helps enhance the conflict.  But if I just put a picture of a man, and the picture of a woman morphing into the tigress, would you FEEL that conflict?  Would you KNOW they had opposite Goals and Motivations, which causes conflict?  Ahh Ha…. you say.  You've heard of GMC before, if you're an author. 
So immediately in the first few slides, with the first little bit of text, I show internal conflict between the couple. I tell you a little bit about the couple.  Right away you see the goals, if not the motivation behind the H/h.  Next is the external conflict.
Surrounded by danger – That doesn't seem very specific, yet the imagery takes the lead by showing a man with a gun, and the next slide shows our heroine in tiger form, snarling and growling.
Then back to our gun, and a shot is fired.
Wow, if that isn't external conflict, what is?  So the idea behind the words and the images is to show the GMC of your characters.  Scary, isn't it?  All the same things you have to write into your book, you have to put into your video. 
So once you have your slides laid out in the order you wish to display, which ones of them need a few words to explain your GMC?  Which ones of them speak for themselves? My growling tigress speaks for herself toward the end.  My gunshot exploding and then darkness, it speaks for itself.  Someone is in danger.  Serious danger. 
And what is the hook?  Every paragraph ending needs a hook.  The same goes for your trailer.  Leave them wanting more.
So today's assignment:  Lay out your slides, and then add text using the "add text" link at the top left.  You can slide the text left or right. I've found that it rarely is necessary to have text on a plain background, but sometimes it can put just the right emphasis, so you'll have to use your own judgement.  Remember that your slides will each display between 7-10 seconds.  You want people to be able to read your text without taking away from the image behind it, so keep it short.  If the text is long, you'll probably have to add an additional "text only" slide before or after the image you have selected.  You want to minimize that.  People are very visually stimulated, but if they have to read alot, they're just going to click away.
I'm going to share tigress with you again – not because I want you to memorize it or anything. LOL  I want you to see it now, thinking of the GMC.  How could I Have done it better?  I know I could have, so please share!
Fatin has been an integral part of the romance community for years – she owns and runs the RR@H Novel Thoughts and Book Talk blog, is an administrator of the WriteMinded loop, an author assistant and a tireless advocate for romance novels. She is also a friend to many in this community.
On Tuesday, March 8th, she lost her husband in a senseless act of violence, leaving her alone with four children. You can read more about the tragedy here: http://www.wral.com/news/local/story/9233067/
And so, Operation Auction was born.  To read more about it, click here:  http://operationauction.wordpress.com/
Auction goes live at 12:01 PDT on 27 March. So check it out, and bid for items from some of your favorite authors. I know I'll be there bidding!
The actual auction store will be here.
Please pass this on. It's important we get as many bidders as we can to help Fatin and her family out.  I can't even begin to put myself in her place right now.  My thoughts and prayers are with Fatin and her children.
Hi Teresa! Thanks for inviting me to be here today and showcase the cover of my newly released fantasy erotic romance book, Tears on a Tranquil Lake.
What a surprise for a young woman, to find herself suddenly transformed into a mermaid.
Ciel's first thought – track down the merman who changed her and make him reverse his magic. Unable to find him, survival in her new world becomes paramount. She eagerly accepts help from a dashing pirate captain who takes a fancy to her, lavishing her with finery.
When her merman does show up, he competes for her affection. One look into his eyes makes her life more complex — he is her soul mate.
Which man will she choose – pirate captain or merman? Which life – human or mermaid? Caribbean adventures and dangers chase Ciel as she searches for decisions and the key to her happiness.
Warning: This book contains Haitian vodou, sultry wenches, foul-mouthed scalliwag pirates, overindulgence of fine Caribbean rum, and amorous encounters on deserted beaches.
What was your first impression of your cover when it arrived in the email? Did you pet the screen for a while? Or did you rush to frame it?
I immediately loved the layers of images. The young woman's face in the foreground shows concern, the mercouple's tight embrace behind her shows the strength of their bond, and the background is covered with voodoo and dark magic symbols overtop of a shoreline. So much in one space!
2. What does your book cover say about your book? What special feature does it point to that tells the reader to snatch this up right away to read?
It tells the reader there is both fantasy and romance. I think the intensity of the woman's face and the mercouple's clinch shows urgency to solve a problem…which definitely gives a clue to the excitement and pacing of the story.
3. So tell me a little about your cover artist? Do you know if he or she has a webpage? If so, do you have the link?
My cover artist from MuseItUp Publishing is Delilah K. Stephans. I write erotic romance and really appreciate how she takes time to include the genre other than erotica, in my case fantasy or paranormal. The resulting covers are far more tasteful and artistic than those simply showcasing naked body parts. Her webpage is http://www.delilahkstephans.com
4. What feedback have you gotten back from readers?
Readers have commented on liking the edginess of emotion they sense between the mercouple, combined with the concern on the heroine's face. They also like the soothing, tropical colors.
Howdy all are you frustrated yet? Don't worry – this tutorial is a few days in what probably takes me weeks. I work a few hours here and a few hours there on it. Like I said, finding the photos is the hard part for me, but I've made a few of these trailers on my own by now, so layout and music editing don't take me long.
So you've laid out what you would like for your storyboard – in otherwords, your script. Your images are in place, and your music is there, but unedited. Like I said, I love the Music editing software I use. It's simple and easy to use. For our purposes, I'm going to only SHORTEN a piece of music for you, plus give you hints to add special sounds, like thunder, etc.
First, to add the music to the program, open the program, then in another window, open the folder containing the piece of music.  Click and drag the music into the program, and it will look something like the photo above.
As mentioned before, your video needs to be around 1 minute, like a commercial – because that's what it really is.  But the music you downloaded is longer than that.  Maybe 3 minutes in length, right? 
Determine where you wish the music to end.  Listen to it.  Find that perfect spot, or if there is no perfect spot, find that part of your music that sounds alot like the end of your chosen piece.  Once you have that break chosen, highlight from that point to the end of your piece of music.  Right click, and select CUT.  Then place your cursor in one of the other rows that are empty and paste it back in – this is so you don't lose that section.
Now you need to copy the end – this is so your music ends with that pretty ending and not the "Bang, it's over" type ending.  Paste the new ending on the line closest to your original track.  Notice mine shows up on another line – that's okay.  Once it's finished, that won't be an issue.
My original piece is on line one, my full ending I cut out of it is on line 3, and the copied and pasted new ending is on line 2.   You are more than welcome to slide line three out so the music doesn't overlap, and you can listen and listen till you have line 2 positioned perfectly.   Once you have line 2 and line 1 merged absolutely perfectly, right click on the piece in line one, and cut.  It's gone. You don't need it anymore!
And that's all there is to it – your music is now the proper length!  And next you get to actually position your slides and give them the right "time" for each slide.
Today's video is Myla by Moonlight, a video for Inez Kelley's first book.  Listen to how the music works with every slide.  Listen to the ending.  It works perfectly. Notice there is even a secondary piece of music for the credits – now credits are not 100% required, but if you use them, a secondary piece of music or silence both works.  So check out Myla By Moonlight.
One thing I forgot to mention: To add extra sounds, once you find the clip, you simply put them on a separate line (like line 2) beneath the main piece of music. Play the music over and over again to make sure the sound blends well and doesn't stick out like the proverbial sore thumb. Like the growls I use for my Tigress by the Tail trailer, they are just overlayed by placing them on line two and then saved. Once you "create" the piece of music, you will have one line if you ever open it again, so make sure it's just right the first go round before you close your work.
Hey, folks. Just wanted to let you know I'll be participating in the Easter Hopping Blog hop!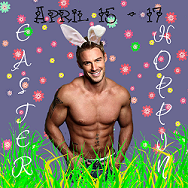 What – Easter Hoppin Blog Hop Giveaways
When – 12:01 AM April 15th until 11:59 PM April 17th
Where – All around the blogging world!
These dates were chosen because we did not want to take time away from your family and other things going on Easter weekend
How this will work:
~Each blog participating is hosting a giveaway of their own. The spending maximum should be around $20, and your giveaway can be anything you would like. Books, bookmarks , swag, coffees, teas, hand made crafts, anything you would like.
~All blogs participating in the Easter Hoppin Blog Hop Giveaways will be linked up through the linky below.Then you can just copy the code from the below linky and add it to your giveaway post. All blogs will be linked together from this automatically on each blog for the Easter Hoppin Blog Hop Giveaways.
~Please keep the steps to enter your giveaway as simple as possible. The long lists of many different things followers can do to earn extra entries tends to scare people off.
~Please help spread the word. Feel free to copy this post, or write a post of your own. The more blogs participating the better! It will mean more visitors and new followers for your blog. We have created a Easter Hoppin button and have added it below for you to paste it everywhere!
~Giveaways can be open to ship anywhere you would like
~If you have any Questions please email Danielle: dhester23 AT yahoo DOT com
~Please create your Easter Hoppin Blog Hop Giveaway post before the giveaway starts. Set it to post at 12:01 AM on Friday April 15th.
Hi all. So did you have fun finding all those pictures? I bet you oogled alot of man flesh and pulled out your hair trying to find the right heroine! But now that you have your pictures, it's time to open up Microsoft Movie Maker. Again, I do not recommend you use the version that comes with Windows 7, But to download version 2.6
It's time now to story board!  Scary – now I do this directly on Movie Maker, but you might find it easier to put it on paper.   I'll walk you through my steps though, so you can see how things turn out.
Click and drag your music into the Audio/Music line in movie maker.  Or select IMPORT MUSIC.  The reason we are putting the UNEDITED Music in is to help inspire you during your story boarding.
Then click and import pictures.  They'll open where you see the "tigressaudio" file.  Import whatever photos you might possibly use.  Don't forget to import your cover art!
Always start off your video with your cover art, or as in the case with some authors, cover quotes or review quotes.  Something which captures the attention.
Now, listen to your music, and thinking about your book, lay out the images to create your story, remembering that you will need to display each image a minumum of 7 seconds for people to be able to
see them well enough – preferably 10.  For now, don't worry too much about the timing of the slides, until you are comfortable with your music, etc.  Once you've laid out your slides in order, you're almost there!  Woohoo!
Here's an example of the work space for the video for Tigress By the Tail.  We'll do the Title Overlay later.
So now, your trailer is coming together. You can see what it is you really want out of your story board.  The music and the images look great, and it's time to start thinking deeper. 
Special effects?  How are you going to create special effects?  So I'll leave you with my most current trailer today, and have you thinking – do you want special effects? Do you want your slides still or do you want them to zoom inward?  what bout outward?  It's also time to start thinking – do you want text overlay? If so, what text do you need? I personally recommend you minimize the text.  The less you have the more interested your "Shopper" will be.  So enjoy my latest video, Tigress by the Tail.
Welcome back. Yesterday you learned how to choose your music, and I hope you all spent many hours listening to the wonderful pieces on the site I shared. And, I hope you have listened to your selected piece over and over again, so you can feel it.  With each swell of the temp, I hope you can picture a scene from your book.  Remember, this is setting the scene!
Next it's time for pictures.  I shared a few links of the istockphoto and dreamstime photos.  This will take even longer than the music section.  For me, it's also the hardest part – finding photos that match your hero and heroine.  Finding photos that show the intensity or romance of your book.  The
reason we visit the photo sites before we move into laying out your video, is often a photo will flash before your eyes and you'll think "YES, that's great for ….."  totally changing the course of your video.  Others of you need to plot your video with the same detail you plot your book. That's okay too – it's all up to you.
This part typically takes me weeks to find those perfect shots.  I usually start while my book is still in the editing process, and while the cover is being created.  The nice thing about these shots is you can download these pictures first, without paying, to your harddrive.  Then, you can position them in your trailer to see if they really work before you spend your hard earned cash.  I can't tell you  how many photos I purchased that I didn't use until I started doing it this way.  Of course, the scary part is when you forget to change it out – and have to go back and redo your video cuz you have the freebie version with the trademark on it. 
You can also sometimes find video clips you can use in your trailer.  Be aware – animal videos cost more than people videos, but can make a powerful impact.
If you can edit photos – go for it. I'm not so good at that. The best I can do is crop. When it comes to actually changing an image, I'm afraid that's beyond me, you'll need someone else's tutorial to help you with that part.
So pick your photos, and download the demo version of it to your computer.  Get as many as fit your characters.  When you find the perfect model, make sure you click when it says "other photos by this model" and you'll see even more great shots.  Remember that these sites don't necessarily have romance novels in mind when they take their pictures, so don't be surprised if you can't find the 100% perfect shot.
So here's my third trailer (the 2nd one was remade and will be shown later).  Here you will see where I utilize both video and imagery to tell the story. I also did my first morph.  It came out nice, but we'll talk about how to do that later. Don't try to find this book – right now it's not available, but will be re-released in September!